This is a Sponsored post written by me on behalf of iBulb for SocialSpark. All opinions are 100% mine.
I know most of us love flowers and fresh flowers would be our first choice, right?  Do you ever think about lilies? Lilies are beautiful and modern and make your home feel so fresh in the spring.  Many of us pick up flowers at the grocery store ~ why not look for some lilies next time? They're a wonderful way to treat yourself which we all need to do from time to time.
A beautiful bouquet of lilies would be an amazing gift for someone special.  Your mom, sister, or a best friend would be so surprised to receive these gorgeous flowers.  You may even want to hint around to your hubby that next time he thinks about buying you flowers, lilies would be a nice and unexpected surprise!
lilies
Look how pretty these yellow lilies look in this rustic container.
I just love the contrast, don't you?
I have always loved pastel colors so I think this arrangement of white lilies and pink
tulips are really beautiful especially in the pretty pink vase.
 It would make a special gift for any occasion.
  Look at this dreamy wedding bouquet!
I adore how the white lilies are combined with the crystals ~
such a creative idea and so elegant.
 I can just imagine a bride walking down the aisle carrying this bouquet with the shimmering crystals.
Have you ever thought about using potted bulbs in your decor?
They are easy to care for and look lovely for a long time.
I really like how these look in the clay pot.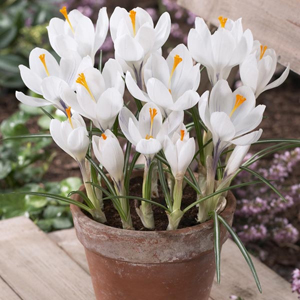 Potted bulbs can be purchased at grocery stored, garden centers, and flower shops.
This arrangement would cheer up any room in your home.
So cute in the little rustic basket.
How cute is this?
Pots of blooming bulbs going up the steps.
And so simple with fabric and red string wrapped around the pots.
There are many more inspiring photos and ideas for using bulbs on the 
iBulb Lilies Pinterest Board:  http://pinterest.com/ibulblilies/
So think about some flowering bulbs next time.
A beautiful unexpected treat!